How To Deal With Failure Like A Winner
1. Don't Let Failure Define You
As hard as it is to recognise failure and stare it directly in the face, it is important to remember that failure does not define you. Just because you have failed at a specific task does not make you a failure in any way.
Have a look at some of these articles below which give some great advice on how to not let failure define you.
Elayne Savage: Don't take it personally | queenofrejection.com
Your failures don't define you. Your response does | MargieWarrell.com
Don't let Failure Define You | ProfessionalYou.com
Quotes on Failure | notablequotes.com
How to Bounce Back from Failure | dailygood.org
You are Not a Failure | PsychologyToday.com
Keep Moving Forward and Let Go of Failure | AdvancedLifeSkills.com
2. Learn From Your Mistakes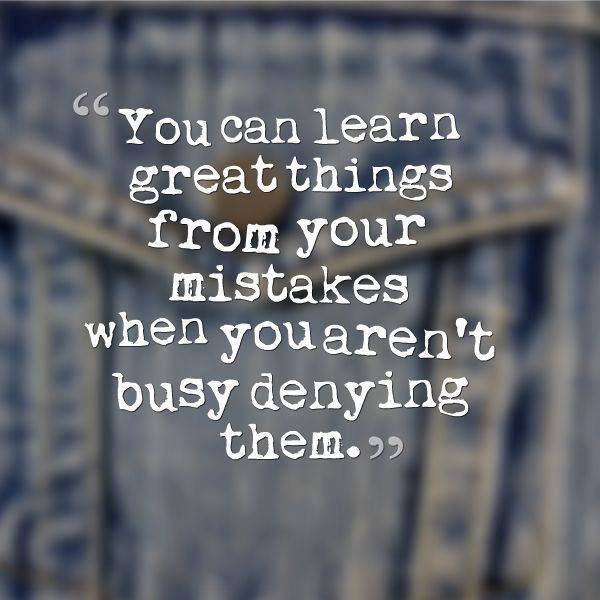 One of the greatest ways you can defeat your failure is to learn from your mistakes. By turning your failure into a learning experience you are automatically taking a negative situation and turning it into something positive and most importantly, you are picking up on things that you can do in the future to help that same failure from not occurring again.
Have a look below at some key things you can do to help yourself learn from your mistakes like asking yourself what went wrong and knowing what caused the mistake to occur in the first place. I have also added in some inspiring quotes to motivate you to learn from these mistakes.
How to Learn From Your Mistakes | rainmaker.fm
Former Apple CEO John Sculley: You Learn From Your Mistakes, Not Your Successes | Entreprenuer.com
Learning From Your Mistakes | leaderchat.org
Learning From Your Mistakes can Chamge Your Fortune | quartz.com
7 Ways to Learn From Your Mistakes | FitnessRepublic.com
3.  Accept That You Have Failed and Move On
If you are never able to accept your failure and move on it from it, you will permanently be stuck in a place where you feel sorry for yourself. It is important for you to accept and understand that there is nothing that you can do to change what has happened, all you can do is pick yourself up and move on.
Below I have listed some great reads which I hope inspire you to accept and move on from your failures in the future.
Moving on After Failure | Luke1428.com
6 Tips for Accepting Failure and Moving On | Entrpreneur.com
The Deep Importance of Learning to Accept Failure | hellogiggles.com
12 Truths to Tell Yourself After a Failure | marcandangel.com
How Failure can Accelerate Your Success | pickthebrain.com
Moving Forward After a Career Failure | themuse.com
4. Stay Motivated and Continue Pursuing Your Goals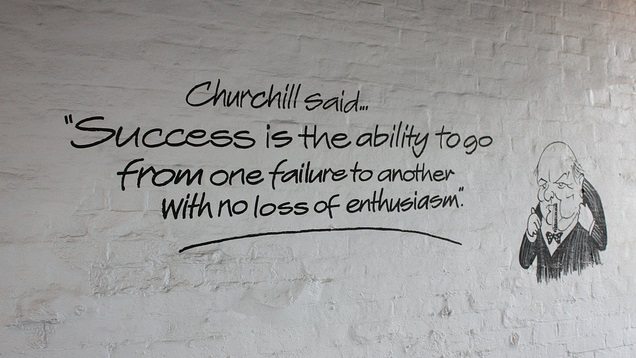 Failure is undoubtedly one of the most demotivating life experiences that a person can go through. One of the best ways to overcome this feeling of failure is to continue to stay motivated by channeling your energy into another project. It is important to shift your focus away from the failure onto something positive, like working towards achieving a goal that you had previously set for yourself.
How you can get motivated to achieve your goals | Forbes.com
How the most Successful People stay motivated | Forbes.com
How to stay motivated after a failure | getmotivatedstaymotivated.com
5. Read Books on Dealing With Failure
Failure is inevitable. Therefore, it is important to make sure that you are fully prepared to deal with it when it arrives. One of the most effective ways to make sure you are fully ready and capable to deal with failure is to constantly read books on the subject. I have listed below what we think to be 7 of the best books on dealing with failure, so go give them read and prepare yourself to adopt a whole new perspective on the topic!
Elaybe Savage: Don't Take It Personally
Andreas Kluth: Hannibal and Me
Walter Isaacson: Steve Jobs
Scott Adams: How to fail at almost everything ans still win big
Cheryl Strayed: Wild
Darcy Andries: The Secret of Success is not a secret
John C. Maxwell: Failing Forward
6. Watch Ted Talks That Focus on Dealing With Failure
The only thing better than being inspired by a great book is being inspired by a great TED talk.
I'm sure you are well aware of the TED talk phenomenon and the inspiring difference that they are making in the lives of so many people, and therefore it just wouldn't be right if I left them out of our article.
So listed below you will find a collection of the best TED talks that focus on dealing with failure. Do yourself a favour and set aside a few minutes every day to give these a watch.
Kathryn Schulz: On Being Wrong
Larry Smith: Why You Will Fail to Have a Great Career
Sarah Lewis: Embrace the Near Win
Elizabeth Gilbert: Success, Failure and the Drive to Keep Creating
Tim Harfard: Trial, error and the God complex
JK Rowling: The fringe benefits of failure
Diana Laufenberg: How to learn from mistakes?
I hope that you now have a bit more insight into what exactly it takes to deal with failure more effectively. While there is no way to prevent failure from occurring all together, I hope you are feeling more confident in your abilities to be able to deal with failure when it arrives. And remember, you ARE not your failure, make sure to never let it define you!