John Pace I Owner of At Pace design practice and an award winning Artist
John Pace is the epitome of creativity and he has unleashed his huge talent across South Africa's design and advertising industry over the last 30 years – as a senior award-winning Creative Executive at Ogilvy and Mather, as Co-founder of Lowe Bull Calvert and now as owner, founder and Creative Partner of his own design practise, At Pace.
Spend 2 days with At Pace Design?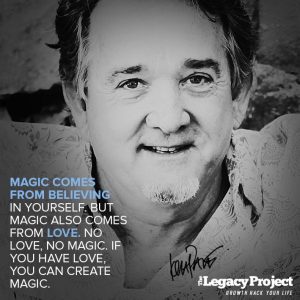 Amongst a myriad of clients over the years, Pace has produced work for Volkswagen, Audi, Ackermans, Dunlop, Woolworths, Carling Black Label and Syfrets; he is the recipient of many awards including winning D&ADs, five gold and one grand prix Loeries, the Sappi Designer of the Year Award, as well as being recognised as an artist in his own right, receiving the 2015 Sanlam Portrait Award.
John Pace can be described as that unique point of confluence where integrity, love and a 'kick-ass attitude to live and laugh well' all come together. Here we share more of this inherently delightful and original soul and are totally thrilled to be able to share some of his very own 'secret sauce' for successful living.:
About my Life Mission | Always do and give of your best.
My Definition Of Success | I don't believe success is ever really reached as its always a moving target….. So I feel it's something that you just have to keep striving for. There is always something else that needs achieving.
I Am Driven By | Failure…it's happened to me before, and you have to dig yourself out of a hole…very hard mentally to keep going when everything seems so bad. God and belief in yourself is very important. Don't think I haven't asked God for help in my darkest hours because I have.
Then this: "Mediocrity is Expensive"…. a quote I picked up years ago, and it's something that I apply to my business and my painting. This quote too is a driver for me. "Good is the enemy of the great"…these quotes keep me going.
My Highlights | Getting married to Sue, having two beautiful children which I feel so blessed to have, and my winning the Sanlam Portrait of the year in 2014.
The Magic in me Originates From | I must say here that having a partner that believes in you is just fabulous, and it's my wife who believes in my talent so much! Magic comes from believing in yourself. But magic also comes from love. No love, no magic. If you have love, you can create magic.
The Difference Between Good And Great | Passion. If you are passionate about something, you would no doubt LOVE what you do. And this turns good into great.
A Key Talent | I believe I was blessed with the talent of being creative. But its something you have to grow, and it's hard work. Having a great idea may just pop into your head…but that comes from the discipline of good hard thinking. One must be critical too of ones ideas and oneself. Lateral thinking is what I learnt about in advertising, when looking for an idea for a client's brand. Understanding how to laterally think is very important to creative thinking. It where you go to find ideas…
Principles, Values and Ideologies I Live By | Honesty is number one. Never bullshit anyone. Act with integrity. Always be polite and be kind to others. Learn to Listen. Help someone grow if you can. Give away your knowledge. Love wherever you can.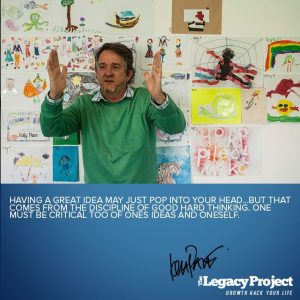 How I Use My Mind | The shower… always think in the shower, it's full of ideas. I often wake up at 3 in the morning when something just isn't quite right, and I solve problems there in the dark too. (The dark also makes things seem much worse than what they are).
Lessons I Have Learnt | When you are mentally in the ditch always believe that this too will pass. Time heals everything. Take calculated risks… believe believe believe. Never say " I hope that client will call me…" say "When that client calls me…"
Resources I Use To Stay Inspired | From a work perspective, my 3 young designers are inspirational in their efforts to be great at what they do. I read the news everyday, I paint twice a week, and I read art books, Pinterest, Vanity Fair, watch National Geographic, love art galleries worldwide.
My Future Dreams And Ambitions | I would like to be able to leave a very healthy business to my staff, allowing them to share in what we have built over the years. I would like to be a famous painter and leave some beautiful pics of work behind when I die. Own an Austin Healy for a bit, travel to the Antarctic, Kashmir and Casablanca. Drink wine in Napa Valley and Champagne in Reims.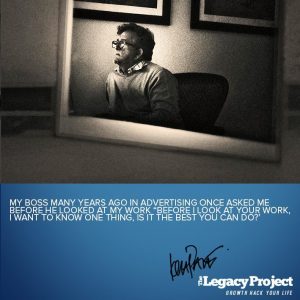 The Best Advice I've Received | My boss many years ago in advertising once asked me before he looked at my work "Before I look at your work, I want to know one thing, is it the best you can do?' ( I had not really tried that hard…and he knew it.)
I went back to my desk and started again. So when you do something, have you given it your best shot? That was advice to me in a round about way.
Advice On Building Wealth | Save early, put some money away all the time, this way if you don't become rich and not many of us do financially, there will always be some financial security. Do what you love doing, work hard at it and the reward shall come all by itself. This I promise.
I Am Inspired By | Inspiration number one, my wife Sue. So upbeat, always striving. Some very good mates like John Henderson, Nick Brummer and Professor Stephen Roche. Artists Lucien Freud and Hopper.
Website: www.atpace.co.za