The Ultimate Productivity Cheat Sheet with 35 How To Tips to Perform Smarter
We read 6 Books on Productivity to find the most practical wisdom in becoming more productive. Here we cover what we found to be the six-best. Each book is highly valuable, so we suggest getting them for yourself to have a deeper read.
1. The One Thing | Gary Keller and Jay Papsan
2. Do More Great Work | Michael Bungay Stanier
3. Extreme Productivity | Robert C. Pozen
4. Getting Things Done | David Allen
5. Less Doing, More Living | Ari Meisel
6. Personal Productivity Secrets | Maura Nevel Thomas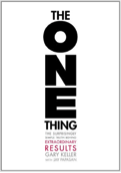 The One Thing
The Surprisingly Simple Truth Behind Extraordinary Results
Gary Keller and Jay Papasan
1. Ask Yourself the 'Focusing' Question:
"What is the one thing I can do such that, by doing it, everything else will be easier or unnecessary?"
A simple, but not easy to answer question. The answer provides both an overview and a laser focus on what you must do today to achieve your one thing. The question propels you to go beyond simple tasks on your to-do list and directs you to what is most important action that will make everything else fall into place.
2. Time Blocking for Extraordinary Results
"The people who achieve extraordinary results don't achieve them by working more hours. They achieve them by getting more done in the hours they work. Activity is often unrelated to productivity, and busyness rarely takes care of business."
Block time for rest and relaxation – "Resting is as important as working."
Block time for your one thing – Focus on doing just the 1 most important thing of each day. Dedicate at least 4 hours a day to this and do it when you are at your freshest, most inspired and creative.
Separate Maker and Manager Time – Paul Graham of Y Combinator, believes that business as usual often interferes with productivity by interrupting creative, productive time – referred to as "maker" time – with "manager" time, which is often spent in meetings. He changed his company's culture by clustering 
meetings at the end of each day.
Block time for planning – Use this time for setting and evaluating your goals and 
progress. Take an hour each week to look at your monthly and annual goals. Take time toward the end of each year to check in on your long-term goals
3. Four Tips to Combat Productivity Hijackers
Learn to say no.
Accept that there is going to be chaos and changes of plan
Take care of your health with good food, exercise, stress relief, family time and sleep.
Create an environment that supports your goals.
4. Understand the Power of Momentum
"You want your achievements to add up, but that actually takes subtraction, not addition. You need to be doing fewer things for more effect instead of doing more things with side effects."
Lorne Whitehead noted in the American Journal of Physics that one domino can topple another that is 50% larger that itself. Starting with a two-inch domino, "geometric progression" means the 23rd domino would be taller than the Eiffel Tower and the 57th would nearly reach the moon. So shoot for the moon by creating a domino effect to get there. Success builds on itself; it is "sequential, not simultaneous."
5. Don't Multitask
Motivational speaker Steve Uzzell says, "Don't screw up more than one thing at a time."
It actually slows your work, leads to stress and saps 28% of employees' workdays since they must reorient to their main tasks after each distraction.

Do More Great Work
Michael Bungay Stanier
6. Identify "What you are like at your best?"
To answer this question, think in metaphors Think along the lines of, "I am this…not that."
Recall a time when you operated at maximum efficiency.
Think of 20 words that describe the way you were then and write them in an "I am this" column.
Edit it down to the 10 most fitting words. Put contrasting terms in a "not that" column that describes you when you aren't working well. Compare the columns. Can you move your behavior from one column to another?
Post the words that describe your best self so that you see them every day. This exercise helps you to clarify how you feel when you are in a great work mode, and to emulate that enthusiasm and drive
Extreme Productivity – Boost Your Results, Reduce Your Hours
Robert C. Pozen
7. Write Everything Down
Make sure you write down every single small and big action you need to complete in order to reach your greater goal.
8. Rank Your Targets
"The key to time management is carving out time to think as opposed to constantly reacting."
Activities that move you closer to achieving your objectives are "enabling targets." Busy-work projects you must do that don't help you reach your goals are "assigned targets." List those targets, also using a one-to-ten ranking.
9. Estimate How You Actually Spend Your Time
"Most professionals have a much better grasp of how they spend their money than their time."
Determine how much time you spend on productive activities and how much your busy work takes. How much time do you spend working compared with the time you use for other activities? What three activities use most of your time? Will your weekly schedule change radically within the year?
10. Address The Mismatch Between Priorities And Time Spent
"If you are like most professionals, you will find that you are spending no more than half of your time on your highest priorities."
Create a tiered to-do list with top-priority tasks at the top. Set deadlines for each task. List your low-priority tasks with completion time ranges, not specific dates. Routinely update your to-do list, but don't make it too long.
11. Don't Always Aim For Perfection – Aim For Completion
"Professionals who demand perfection out of every task – without regard to significance – will soon find themselves overwhelmed by the sheer volume of their low-priority tasks."
12. Judge Your Team Based On Outputs Rather Than Time
Many organizations worry about "face time" – how many hours you spend in the office – instead of rewarding productivity. Though deeply entrenched, such priorities are counterproductive. Judge the people you supervise according to their results and not by how long they sit around the office.
13. Only Handle It Once
Time is your most precious resource, so use the OHIO rule – "only handle it once" – for all paperwork. Check your email at specific times – do not look at every email when you receive it.
14. Multitask When It Doesn't Matter
For example, never check your email while meeting with customers.
The smart way to multitask is to handle minor activities – such as listening in on a conference call or checking email – while doing something that places no demands on your thinking. For example, scan emails while eating lunch at your desk
15. Get The Right Calendar Scheduler
First of all, it must display all your tasks and engagements "in a way that you can see the purpose of each appointment and the importance of each assigned task."
Second, it must be portable, since you need to have your calendar – whether it is paper or electronic – with you at all times.
Stay flexible: Do not fill your days with one event after another. Maintain two open, 30- minute periods for thinking and planning. Leave time for exercise. Follow a daily routine. Get up at the same time, eat meals at the same time and go to bed at the same time every day.
16. Tips To Do Meetings Right
Never schedule a meeting to update people with new information. Use email instead.
If available, make use of videoconferencing.
If you must hold a meeting, limit attendance only to those who must be there – the fewer the better.
Preferably, meetings should last 60 minutes or less, and they should never exceed 90 minutes.
Create an agenda for each session and stick to it.
To reduce your overall number of meetings, set aside at least one business day every month with no meetings.
17. Productivity Tips For Reading
• Try to root out the structure of the books, articles or reports you must read.
• The table of contents will give you a good idea of a book's substance.
• Read the introduction and the conclusion to learn a great deal about your book. Pay attention to chapter headings to get a quick sense of the book's content and thrust.
• Learn to skim; read the first sentence or two of each paragraph.
• The trick to becoming a great reader is not to read all the words faster but to read fewer words.
18. Productivity Tips For Writing
• When you have to write, outline your thoughts.
• Brainstorm to generate ideas on your topic. Categorize them and organize your thoughts logically.
• Every essay includes an introduction, body and conclusion.
• Your introduction should state the theme, supply necessary context and provide a road map for what follows.
• Break up the body of your text with headings or subtitles to guide your readers. Start each paragraph with a sentence that spells out what the paragraph covers. Use short sentences instead of longer ones.
• Your conclusion is not a summary. It draws lessons from the text, discusses the most important implications or makes meaningful recommendations.
19. Productivity Tips For Management
• The best managers delegate. Specify project goals, give your team members ample discretion and let them take care of whatever you've assigned to them. Give them responsibility so they can "own their own space."
• Hire worthy people who can handle the pressure.
• During recruiting interviews, ask job candidates to outline their personal histories. Have them explain their finest professional achievements.
• Urge applicants to speak at length about topics that mean a lot to them so you can judge the quality of their thinking.
• Hire for potential, not experience.
20. Productivity Tips For Managing Your Boss
• Manage your boss with the same care and thoughtfulness you apply to managing your team members. Make sure you know exactly what your boss wants you to accomplish and how you can achieve those goals.
• Routinely request feedback.
• Communicate in whatever manner your boss prefers: in personal meetings, by email, by computer video chatting (using Skype or iChat, for example) or by telephone.
• Adapt to your boss's management style.
• Demonstrate professional loyalty at all times and avoid disagreements.
• If you must take exception to something your boss wants, do so in an emotionally neutral way; emphasize problem solving and ways to improve, but not personality. Respect your boss's authority.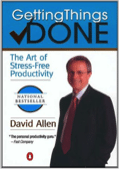 Getting Things Done – The Art of Stress-Free Productivity
David Allen
21. Manage Your Productivity Stress
To be efficient, you must manage your commitments appropriately, so you don't make too many promises and add to your stress. Follow these three principles:
If something is unfinished, release it from your mind
Put it in a system you trust, essentially a "collection bucket," so you can sort through the information when you are ready to do so.
Be clear about exactly what commitments you have made. Know precisely what you have to do to honor each commitment.
Once you decide what actions to take, set up a system of reminders
Review your reminders regularly, so you follow through.
To test how well this approach works, write down the name of the project or situation that concerns you most at the moment. Then write a list of everything you need to do to move the project forward: which steps you must take, who you need to contact, etc. Just completing this exercise should give you a greater sense of control, relaxation and focus.
22. Process Your Inbox – You Want To Go From "In" To Empty.
Discard Anything that you don't need, complete any actions you can do in two minutes, delegate anything you can to others, put reminders of future actions into your organizing system and identify any larger projects.
"'Optimize, automate and outsource' is meant to free up your time and your mind so…you can do the things you really want to."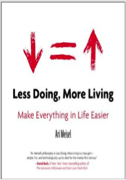 Less Doing, More Living – Make Everything in Life Easier
Ari Meisel
23. Use the 80/20 Rule
Apply this rule to your life by focusing on the 20% of your time that pays 80% of the dividends. Track your time to target the all- important 20% to prioritize.
24. Use Apps To Help You Perform Better
Such as RescueTime which shows you how you spend your computer time, and IDoneThis that allows you and your team to record your accomplishments.
25. Use a Meeting Scheduler App
The free ScheduleOnce application supplies a "public scheduling interface" and an "appointment page." It lets you eliminate the usual back-and-forth required to set up appointments. Instead of numerous emails, one will do the job.
For example, an email from ScheduleOnce tells the person you need to meet, "Here's my schedule. Pick any time that works for you."
26. Keep Your Inbox Empty
Keep your email inbox as empty as possible. It "can become a breeding ground for unfinished tasks, dread and mental clutter. You can free a lot of mental resources by clearing out your inbox and keeping it empty."
27. Stop Running Errands": Get Someone Else to Handle Your Chores
Running errands wastes time that you can put to better use, so get other people to do your tasks for you. You will be amazed at the amount of time you can save.
28. Batching": Put It All Together
Every time you stop doing one thing and start doing something else, you lose focus. When you go back to your original task, you spend time getting acclimated. Instead, batch similar tasks. Schedule a time to do only those particular chores. For example, plan to handle all your emails during a set period.
29. Look After Your Health
To live an efficient, productive life, you need to be physically well, so practice proper nutrition, get an adequate amount of sleep, exercise regularly and take the right supplements.
Proper sleep is essential to good health. Without it, your body will create ghrelin, a hormone that makes you hungry and more liable to gain weight. With sleep, quality matters more than quantity.
Personal Productivity Secrets
Maura Nevel Thomas
30. Manage Your Attention Not Your Time
Personal productivity depends on "attention management," not time management. True learning occurs when you concentrate and control your attention. Focusing properly means placing your attention exactly where it needs to be.
31. Block Interruptions
When you deal with interruptions, you operate in a "reactive mode" and spend your effort handling things that matter to other people instead of addressing your own priorities. You must first give your attention to the activities that move you productively ahead in your life, the items that are essential in your life, not what is important to other people
Here are some practical tips you can start with
Put your phone on silent, don't listen to voice messages and return calls at pre-determined times of the day.
Change your email settings to only receive email once an hour and go through your email with the goal of emptying your inbox.
Schedule, time to respond to people (email, phone, meetings) as well time to work uninterrupted.
Put your phone in another room when you sleep or are with friends.
Don't let social media's "push notifications" and pop-up alerts divert your focus.
32. Stop Multi-Tasking
"The more multitasking we do, the worse we get…at everything."
The human brain can handle only a single conscious thought at any one moment. Multitaskers must mentally switch from one task – one thought – to another, a process known as "cognitive switching." Thus, they need more time to complete each task, and that leads to a decrease in the quality of the work they achieve.
33. Control Your Attention
Conversely, when you control your attention, you operate in a special state of focus that athletes refer to as being "in the zone." When you really pay attention, you're able to make quick connections between activities and events. You analyze confusing situations more clearly. You break down complex ideas, understand them more completely and reflect more carefully. Such attention management depends on behavior control.
34. Conduct Daily Brain Dumps
"Storing too many details in your brain is inefficient, but it also causes stress."
To be truly productive, you must clear your mind. This involves setting up a brain dump. Stop trying to store all of your life details in your head, no matter how trivial. Then categorize and order the data so that is well-organized and instantly available. You will only then stop worrying about them.
35. Create an Environment that Promotes Productivity
Clear out the mess and unnecessary info that surrounds you
Arrange your info (digital and paper) files into "action files" on your current activities; "reference files, and "archive files"