The Secret Of Life
PART ONE: The Luminaries Tell Us What Life Is About
What happens when you ask some of the world's most brilliant, luminescent people to reflect on their lives and then give advice to students about to step into the adulthood? You get commencement speeches, a great American tradition of condensing and handing on wisdom and inspiration to a new generation of leaders. Within their pages lie the crux of the matter: What our best minds believe to be the key to life, living it, and finding success and fulfilment along the way.
Greatness Never Gives Up: Winston Churchill
British wartime Prime Minister Winston Churchill addressed students at Harrow School 1941. The context was the early years of World War Two. Churchill reflected on the year that had passed and how it had seemed certain that Britain, resisting the German army alone, would be defeated. Churchill speaks to a quintessentially British ability to push forward with something and complete it through sheer perseverance.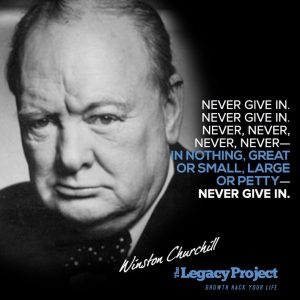 "But we must learn to be equally good at what is short and sharp and what is long and tough. It is generally said that the British are often better at the last. They do not expect to move from crisis to crisis; they do not always expect that each day will bring up some noble chance of war; but when they very slowly make up their minds that the thing has to be done and the job put through and finished, then, even if it takes months if it takes years they do it."
"Never give in. Never give in. Never, never, never, never in nothing, great or small, large or petty never give in, except to convictions of honour and good sense. Never yield to force. Never yield to the apparently overwhelming might of the enemy."
Freedom Is A Moment By Moment Choice: David Foster Wallace
David Foster Wallace gave this speech to the graduating class at Kenyon College in 2005. It tops almost all the 'best of' lists and is absolutely worth reading or watching in full. Wallace was an American novelist and non-fiction writer, who committed suicide in 2008. His speech offers a glimpse of how to find meaning within the muck of adult existence. Wallace suggests that it comes down to utilising and strengthening our ability to choose how we experience life, moment by moment, this is the secret to true freedom. This is the kind of choice that enables people to transcend their circumstances and see beyond themselves. We can pursue this freedom by gradually displacing ourselves from the centre of each interaction, from the belief that everybody and everything should smooth our path and not stand in our way, and consider alternatives.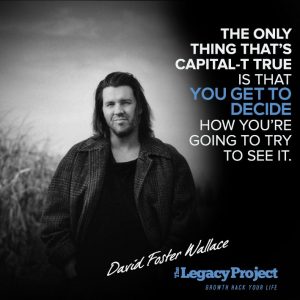 "If you're automatically sure that you know what reality is and who and what is really important if you want to operate on your default-setting – then you, like me, you will not consider possibilities that aren't pointless and annoying. But if you've really learned how to think, how to pay attention, then you will know you have other options. It will actually be within your power to experience a crowded, loud, slow, consumer-hell-type situation as not only meaningful but sacred, on fire with the same force that lit the stars – compassion, love, the sub-surface unity of all things. Not that mystical stuff's necessarily true: The only thing that's capital T True is that you get to decide how you're going to try to see it. You get to consciously decide what has meaning and what doesn't." From the mundane everyday circumstances of Wallace's speech to far more terrible environments to the prison on Robben Island, where Nelson Mandela and his fellow inmates chose to educate each other and pursue beauty and meaning, we can all choose this freedom, moment by moment.
Greatness Triumphs Over The Odds: Michelle Obama
Michelle Obama, First Lady of the United States, gave a short and straightforward yet very inspiring message to the class of 2011 at Spelman College, which was one of the first schools for African American woman. Spelman began in 1881, offering black women education and a belief in their abilities and potential, which went radically against the grain of the time. Michelle Obama spoke to what it means to come up against prejudice and discrimination today, and how to find the inner strength to overcome it.
"For six generations that is what Spelman women have done. They have seen every defeat as a challenge. Did they have moments of doubt, anxiety and fear? Did they have moments of despair when they thought about giving up or giving in?
Of course they did; we all do. I am no exception. Some of you may have grown up like me, in neighbourhoods where few had the chance to go to college, where being teased for doing well in school was a fact of life, where well-meaning but misguided folks questioned whether a girl with my background could get into a school like Princeton. Sometimes I saved them the trouble and raised the questions myself, in my own head, lying awake at night, wondering whether I had what it took to succeed.
The truth is that there will always be folks out there who make assumptions about others. There will always be folks who try to raise themselves up by cutting other people down. That happens to everyone including me throughout their lives but when that happens to you all here's what I want you to do. I want you to just stop a minute, take a deep breath, because it's going to need to be deep, and I want you to think about all those women who came before you."
Saying Yes-And To Improvising Life: Stephen Colbert
Stephen Colbert is an American actor, TV host and comedian. He hosted The Colbert Report, providing satirical news and commentary, from 2005 until 2014, and has recently taken over The Late Show. He delivered this commencement speech to Knox College graduates in 2006, and it's a zinger. His most poignant advice on acting, and by extension life, is about being open to the power of "yes", and the amazing things that can emerge from having the courage to say it.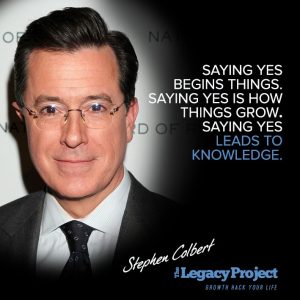 "So, say "yes." In fact, say "yes" as often as you can. When I was starting out in Chicago, doing improvisational theatre, there was really only one rule I was taught about improve. That was, "yes-and." Yes-anding means that when you go on stage to improvise a scene with no script, you have no idea what's going to happen, maybe with someone you've never met before. To build a scene, or anything on stage, you have to accept what the other improviser initiates. They say you're doctors . And then, you add to that: We're doctors and we're trapped in an ice cave. That's the "and." And then hopefully they "yes and" you back. You have to keep your eyes open when you do this. You have to be aware of what the other performer is offering you, so that you can agree and add to it. And through these agreements, you can improvise a scene or a one-act play. And because, by following each other's lead, neither of you are really in control. It's more of a mutual discovery than a solo adventure. What happens in a scene is often as much a surprise to you as it is to the audience.
Well, you are about to start the greatest improvisation of all. With no script. No idea what's going to happen, often with people and places you have never seen before. And you are not in control. So say "yes." And if you're lucky, you'll find people who will say "yes" back.
Now will saying "yes" get you in trouble at times? Will saying "yes" lead you to doing some foolish things? Yes it will. But don't be afraid to be a fool. Cynics always say no. But saying "yes" begins things. Saying "yes" is how things grow. Saying "yes" leads to knowledge. "Yes" is for young people. So for as long as you have the strength to, say "yes."And that's The Word."
People who can affirm, run with, and add to the energies and offerings of others become dynamic builders, open to growth.
Write Your Story And Reinvent The Script: Toni Morrison
Toni Morrison is a Nobel Prize-winning American author and academic. Her speech to Wellesley graduates was a kind of anti-address, a debunking of the optimistic psych-up that characterises the genre. Ultimately Morrison reminds us that he past and the present do not belong to us and are beyond our control, but that what we can be sure of is the particularity and uniqueness of the self. Animate your own version of what it means to be human, reinvent the script, and own your own story: an epically poetic call for fresh thinking. Watch or read her speech in full: it's nuanced and beautiful.
"Of course, you're general, but you're also specific. A citizen and a person, and the person you are is like nobody else on the planet. Nobody has the exact memory that you have. What is now known is not all what you are capable of knowing. You are your own stories and therefore free to imagine and experience what it means to be human without wealth. What it feels like to be human without domination over others, without reckless arrogance, without fear of others unlike you, without rotating, rehearsing and reinventing the hatreds you learned in the sandbox. And although you don't have complete control over the narrative (no author does, I can tell you), you could nevertheless create it.
Although you will never fully know or successfully manipulate the characters who surface or disrupt your plot, you can respect the ones who do by paying them close attention and doing them justice. The theme you choose may change or simply elude you, but being your own story means you can always choose the tone. It also means that you can invent the language to say who you are and what you mean. But then, I am a teller of stories and therefore an optimist, a believer in the ethical bend of the human heart, a believer in the mind's disgust with fraud and its appetite for truth, a believer in the ferocity of beauty. So, from my point of view, which is that of a storyteller, I see your life as already artful, waiting, just waiting and ready for you to make it art."
PART TWO: The Leaders On Greatness
Epic. So that's the really big stuff freedom, truth, courage covered. But beyond that there is a wealth of experience sitting in the heads of people who are succeeding, but on slightly more accessible terrain. What do they have to say about their success? The Legacy Project's mission is to get inside the minds of brilliant people and make that advice is available to you. We asked inspiring people from a myriad of different careers and perspectives what the difference is between good and great, and what they believe their key talent is that has set them apart. They shared their stories, the lessons they have learnt, and plenty of practical advice. The amazing thing is that although our interviewees are so diverse and different, there were clear themes in what they said. Passion. Hard work, and some more hard work. Resilience when things go wrong. Valuing connection: nothing is possible without others. A hunger for learning and improving. These are the elements of achievement.
1. Passion First
This one almost goes without saying, but hard work, commitment, and tenacity are difficult to master if you don't love what you do with a crazy kind of zeal. "People who are good at what they do, do it because they are good at it. People who are great at what they do, do it because they feel like they cannot exist without it. They are powered by a force larger than them and believe that what they are doing NEEDS to exist," said Billie Whitehouse, who is an award winning designer, stylist, and a co-founder of a company called Wearable Experiments. Chris Bertish, a record-breaking adventurer and motivational speaker, described the difference between good and great as "a strong enough drive, hunger, desire and will/ want to succeed, so they want it so badly it's like the need to breathe".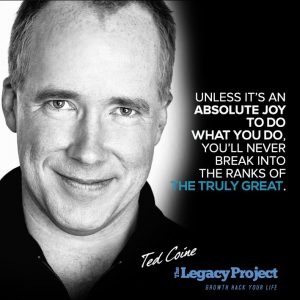 Ted Coine is the founder of Switch and Shift, and an acclaimed author and keynote speaker on the social turn in business. This is his interpretation of what is behind exceptional people. "I've met, interviewed, and at times befriended many uber-successful people thus far in my career. The real difference between good and truly great? Both work hard – really hard; you have to if you want to amount to anything in this life. But the great ones love what they do so much, it doesn't seem like work to them. Look around for the one who's smiling deeply, from the eyes, the one who tells a joke as they outshine their peers – they're just happy, right then, doing their thing with aplomb. Anybody can be top notch if they apply themselves. But unless it's an absolute joy to do what you do, you'll never break into the ranks of the truly great."
There is a relationship in between being madly passionate about what you do and working unbelievably hard to get there. Passion is the 'why' of your motivation: why you will work extra hours, pay attention to the details, not stop until it's done, make one more call. Successful people are driven by internal conviction to do things that gives them their superhuman energy.  John Klukas, photographer "I think being motivated primarily from within, as opposed to by external factors, is the key to moving beyond average. If you find something you are really passionate about you will do whatever it takes to make it a success." Internal motivation gives successful people their sticking power and sets them apart from others who work for deadlines.
2. There Is No Substitute For Hard Work
This one is also repeated ad nauseum, but an astonishing number of our interviewees put their success down to plain old hard work. There is no shortcut for putting in the hours, and there is no such thing as an overnight success. Which brings us back to points one and two: those hours will be a lot easier to do if you love it.
Nomndeni Mdakhi is an entrepreneur and the founder of Edits Communications. She puts some of her success down to hard work."The harder you work the greater you become. Will Smith once said in an interview " you could be smartest, prettiest, most talented person in the room but know this, I will always outwork you and that is how I succeed." There are plenty of talented people out there, but natural talent will only get you so far. Suzanne Frazer is a dancer, choreographer, and award-winning environmental educator, is familiar with the hard yards: "People who are great at what they do are always striving to be better, evaluating what was good and what could be improved and they work a lot harder than people who are just good at what they do. People who are great put a lot of time, effort and energy into doing the best they possibly can. They also work hard over a long period of time and they go the extra mile all the time even when nobody is watching or nobody knows what they do." In our world of instant gratification and quick results, some good old fashioned elbow grease remains the secret ingredient to greatness.
3. Connect With People Authentically: Great Leaders Value Others
A lot of what we read and hear about leadership and success focuses on the individual. The image of the lone entrepreneur slogging away, climbing that mountain to stand at the top, is burned into our imaginations. But the truth is that many great people are successful because of others, because of their ability to connect, care, inspire, and motivate others. Lise Kuhle, the director at Eco Smart Group, pioneered manufacturing from recycled waste, says that what made her successful is her collaborative approach. "I think the first step to being successful is realising that you don't know everything, and you are never going to know everything. Other people's experience and skill sets are priceless. Everything I do, I do with the input of a lot of different people." She maintains strong relationships which she can draw on when she needs consultation and input on a product.
Great leaders, politicians and businesspeople alike, know how to make people feel part of something bigger, and how to really connect with those around them. They know what their broader mission is beyond their own personal mission and are always looking for ways to get people on board.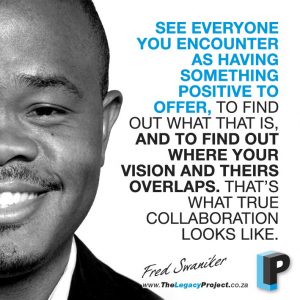 Fred Swaniker is a serial entrepreneur and leadership development expert. He notes the value of connecting people as integral to success. "I see myself as a talented connector. To me, everyone I meet is a potential ally in the mission to build African prosperity and a new generation of leaders, and it excites me to figure out ways to connect people to this movement and to each other to create change. See everyone you encounter as having something positive to offer, to find out what that is, and to find out where your vision and theirs overlaps." This clearly goes beyond networking. One of the lessons we can learn from the greats is the value of relationships.
The key to developing good relationships with new people is connection, according to Linda Olagunju. Linda is a lawyer, director of a renewable energy company, and founder of the Renewable energy Forum South Africa. She attributes her success to engaging meaningfully with others. "I could not engage with people artificially – we would need to have a common interest in order to engage authentically. Find the common interest. Once you have made the connection, keep in touch. Do not just call people when you need assistance: try and maintain the relationship and take an interest in them. You can only do this successfully if you are genuine in your intent."
Relationship building also matters closer to home, with the immediate team or partnership. The people who work closest to great leaders love to work for them because they inspire those around them and connect with them. Justin Clarke, the CEO and co-founder of One Africa Media, says he uses his people skills extensively in business. "People like to be part of something, so show them the picture and let them share in the vision. Trust people with responsibility and let them grow, even let them make a few mistakes, and they will trust you when you do need to lead. Show the highest level of integrity in everything you do, because not only will others follow the example but also you will need people to be able to take you on your word."
4. Failure Is Your Friend: On Resilience And Tenacity
Resilience is a quality that pops up over and over again, in many different forms. Sometimes it's as simple as "don't give up", and sometimes it comes in the form of overcoming obstacles. Entrepreneurs, innovators, inventors, leaders, and creative and original thinkers all have to face failure, criticism, and huge mountains of obstacles in their path. You need to be tough and tune out the nay-sayers, as Michelle Obama pointed out, and you need to be able to pick up the pieces and learn from them when things go wrong. Failure sorts the wheat from the chaff.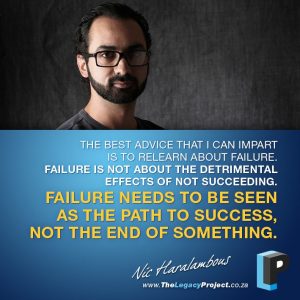 Nick Haralambous is a South African mobile entrepreneur and founder of nicsocks.com. When asked what his key talent is he chose resilience. "Resilience. For me, a defining feature in my life has been a lot of failure and picking myself up off the floor. The harder I push, the more dramatic the failures become. So when I do hit the floor, it's resilience that allows me to get back up, forget about the pain and do it all again. The best advice that I can impart is to relearn about failure. Failure is not about the detrimental effects of not succeeding. Failure needs to be seen as the path to success, not the end of something."
People who become great learn after a few knocks that failure can be useful. They make their peace and accept it as part of their journey. Within that process is empowerment. Stephen Koch is a professional adventurer and snowboarder. He values tenacity and a good attitude to failure. "When you fall down, get back up. We all fall down. If you don't you are not trying. The power is in learning from your mistakes. I don't even like calling things that don't go well mistakes. I like calling them learning opportunities. That is power. To turn setbacks into opportunities to learn and grow and learn from them to do better moving forward."
5. Hunger To Learn, Hunger To Improve
People who become great seem to have an extraordinary hunger. They are hungry for constant improvement, and for information. A lifelong capacity and curiosity for learning, and particularly reading, is one of the traits of the super-successful – people like Warren Buffet are known to consume huge volumes of information. They are smart enough to realise how little they know and continually seek to learn. Espen Fadness an extreme sports champion, observed: "Curiosity, open-mindedness, a gentle hand and hard work is behind most of the people I find great. The great ones seems to never get tired of learning and have the confidence to admit their lack of knowledge. By doing so they always get fed with the necessary tools to stay on top of their game." Knowing how to learn is valuable as a general skill, but it's also vital to be able to pick up things you may need along the way: technical skills, languages, knowledge of how something works. Being willing to seek out what you need to know is part of being able to overcome your obstacles and limitations.
Amit Virmani, a documentary filmmaker, explains what this can mean in practice. "Accepting that I don't know anything, and learning as fast as I can — that's made all the difference. I set myself a deadline: first feature-length documentary film by 35. Problem was, I didn't have any technical filmmaking skills. After losing a year trying to raise funds for a crew, I decided to shoot everything myself. I read online forums to figure out the ideal equipment for a one-man crew. Then I borrowed money to buy a camera and just started shooting. I was reading operating manuals at night and making my film during the day. Ditto when it came time to edit. That film, "Cowboys in Paradise", was completed a day before my 35th birthday… We live in a time of permanent disruption. Every industry, every belief, every skill set is up for constant renewal. You have to unlearn and learn at every turn."
Great people also have an appetite for improvement: they pursue excellence and are willing to adjust and improve endlessly. They push beyond each plateau, striving to improve their performance, the synergy of their team, their next story or product, or their service. "People who are great at what they do are always in pursuit of excellence. People who are great have relentless desire to reach that bar that they are always moving higher," says Alex Okosi the senior vice president and managing director of Viacom International Media Networks Africa. This itch for constant improvement was echoed in the responses of many of our respondents, from founders and CEOs to lone creatives.
Janet Rhys, the co-founder of Charlotte Rhys, South Africa's leading luxury beauty brand, attributed her company's extraordinary success to holding the highest standards. "We set the bar very, very high when developing a local brand that would match or surpass the best of the international beauty brands, and we have always maintained that benchmark of excellence and luxury. We will never deviate from that. And I think that is the difference between good and great products and people. Making sure you never drop your standards and never accept mediocrity."
The (Not So) Secret To Life
The most notable thing about the pursuit of success, and the people that we look to for inspiration, is that most of the answers are things we already know on some level. Toni Morrison may put it poetically, but we know our story is uniquely ours. Michelle Obama and Winston Churchill remind us that it takes courage to do what is right, and that we should never give up. When we do the right thing it resonates within us we know it. TLP's interviewees show astounding consistency in their responses to the question of what it takes to be great: passion, hard work, tenacity, curiosity, and connection. None of the advice in this article is especially new. What is striking is its obviousness: it is there in the fibre of our humanness, latent in the lives we live every day. We are not so different from the leaders and the luminaries. We all have the same composite parts and similar hopes and fears. We can all be great.