Vanessa Lynch | Founder of DNA Project
After the murder of her father, Vanessa sought ways in which to meaningfully contribute towards the alleviation of crime in South Africa in a way, which was significant, achievable, tangible and would ultimately have a long term impact towards negating the high crime rate in SA. An assessment of successful criminal justice systems worldwide all pointed to one obvious solution: alleviation of crime in other countries was ultimately achieved through the implementation and development of a National DNA Criminal Intelligence Database.
Vanessa took a personal tragedy and drew on her own traumatic experience to start an organisation that aims to practically address the crime situation in South Africa through the expanded use of DNA evidence in conjunction with SA's National DNA Database. In order to do this she has had to, amongst other things, forge relationship with the SAPS as well as within Government, secure funding, master the Criminal Procedure Act and learn the scientific principles of DNA analysis. These tasks she has tackled with incredible drive and enthusiasm by keeping contact with the Forensic Science Laboratory (FSL), raising money to purchase equipment for the FSL & for DNA Awareness programmes, increasing her knowledge of Forensic Science by enrolling in a course on Biotechnology and accepting invitations to visit the Forensic Science Services in the U.K and the Netherlands Forensic Institute.
My Highlights | When the DNA Act was passed and made operational I felt that I had actually contributed in a meaningful and tangible way to my country. I was proud because it represented triumph over adversity and tragedy (my father's murder). My recent appointment as Deputy Chair of the National Forensic and Oversight Ethics Board was a huge milestone in my career as an activist as I believe that the implementation and ethical oversight of the provisions of the DNA Act, which is driven by the Oversight Board,  is the most critical aspect of this legislation.
The Difference Between Good And Great | Their Attitude! When one has purpose, anything can be achieved, but you need to have the right attitude in order to follow through. You need to be positive as well as prepared to ride the uphill as well as the down. Anyone can ride downhill, but it's how you tackle the uphill's that really counts.
A Key Talent | Tenacity driven by a belief in yourself that anything is possible if you put your mind to it. My father taught me very early on in life that the way to eat your 'elephant' is bit by bit. This means that when you are faced with an overwhelmingly, seemingly impossible task, break it down into manageable 'pieces' and tackle each one step by step. If you draw a rudimentary elephant on a blank piece of paper and separate it into sections, naming each as a task to complete, you then  colour in each section as you complete it and eventually your elephant is coloured in, or 'eaten and you have achieved your goal.
The DNA Project and its objectives were based on this principle: initially I identified the areas that needed to be tackled: Overall Goal: expand and develop SA's DNA Database for criminal intelligence: How? 1) Change the laws; 2) Create specialised degrees in law and science to ensure skills in the forensic labs and criminal justice system which will mean that the technology is robust and understood at all levels if scientists and lawyers are qualified ; 3) Assist labs with capacity to analyse more samples by providing them with much needed equipment; 4) Create crime scene awareness for first on crime scene responders and the public so that critical evidence left at crime scenes is not destroyed; 5) Educate the health sector on the new laws as well as officers of the court to ensure the proper use of the technology to secure convictions; 6) Protect the innocent by using the technology for exoneration purposes i.e. create and support the Innocence Project of SA. All of the above objectives, once identified were tackled with tenacity, drive and a dedicated and passionate team. If you look at our website www.dnaproject.co.za you can see how much of our elephant we have eaten over the last 11 years.
Principles I Live By | Integrity and passion. If you always act with integrity and honesty, you simply can't go wrong, do not be tempted to ever, EVER, waiver from the path of integrity. You will never be respected if your credibility is questioned. Passion is a wonderful quality too and it often takes time to find what it is you are passionate about, but once you find it, follow your passion. We have one life on this earth and use it to the best of your ability. Do not spend your life doing something that doesn't fulfil your passion.
How I Use My Mind | I always believe in myself no matter what those around me say. My own mother, who is actually my biggest supported, once told me I was 'farting against thunder' – I turned around and told her that I will then have to fart louder! The point is that when you believe in something, believe in yourself to achieve it — you will find a way around the challenges and obstacles IF you want it badly enough and believe in yourself that you can achieve it.
Dealing With Doubt | Of course we always face times when we question what we are doing and fear the unknown. But it is actually at that point when you have to fight hardest and believe in yourself the most. In saying that, however, you may need to change direction if something isn't working: many times I have had to do that, but my underlying belief never wavered.
Performing At My Peak | It is a fallacy to believe that someone always performs at their peak. It is simply not possible. There are times when you do perform at your peak and there are times when you simply cannot. But you can always give yourself the best chances of performing well: striving for excellence and not perfection is one way that won't kill you but will achieve effective results. Looking after yourself and your body is also important. I am a great believer in keeping fit and eating healthily. I demand a lot from my mind and body to perform, and it is the least I can do to ensure that what I put into it and what I do with my body helps it achieve that objective! Of course we need to approach this with moderation, but if you look around you, you will find that healthy and fit people are mentally strong and have lots of energy — both of which are essential to performing well.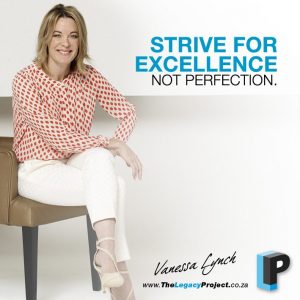 Resources I Use To Stay Inspired | Never ever stop learning! A highly respected French surgeon (Dr de Saint Cyr) once said: "The professional has no choice but to be a student forever". I love that quote because even when you think you know it all, you don't!! It inspires me to continue to learn with an open mind. I do this by always making sure I am abreast of the advancements in the field I work in; I attend local and international conferences whenever I can; I source information from the internet and books and talk to experts in my field. I also make sure that I learn about things other than just what I am interested in. Reading books is one way of doing this and meeting new people and hearing from them about what they do is another. Travel is also high on my list for learning and experiencing new things.
My Future Dreams And Ambitions | I would like to obtain a PhD. I have accumulated so much information and knowledge over the last 11 years and I would like to make a meaningful contribution to my profession by submitting a thesis on certain aspects of my work. I would also like to travel more — if you get the opportunity to travel, just do IT!
The Best Advice I've Received | Strive for excellence not perfection.
Advice On Building Wealth | Don't make that your only goal! Wealth can equally impoverish your soul. When I look back at my life as a student where I had very little, I can honestly say they were some of my happiest times in my life.
Useful Links |
Website: http://dnaproject.co.za/
Twitter: https://twitter.com/DNADetective
Facebook: https://www.facebook.com/pages/DNA-Project/
*Photo credit to O, The Oprah Magazine for feature image