Kristine Pearson | CEO of Lifeline Energy
Kristine Pearson is the founding Chief Executive of Lifeline Energy, a non-profit social enterprise that designs, manufactures and distributes solar and wind-up media players and radios for vulnerable populations.  Since its inception in 1999, more than 600,000 products have been distributed, mainly in sub-Saharan Africa reaching many millions of listeners who otherwise would not have had listening access.  She works with UN agencies, NGOs, content providers and governments to help ensure important information and news reaches the intended listeners.  Kristine realised early on that as long as women were trapped in energy poverty, they would be trapped in poverty.  As a social entrepreneur, she understands the role of renewable energies in providing sustainable information and education, in addition to safe and clean lighting and cooking.  Kristine is a Schwab Fellow of the World Economic Forum, the 2005 recipient of the James C. Morgan Global Humanitarian Aware and was named a Hero of the Environment by Time magazine. Having emigrated to South Africa from California in 1989, she's travelled to nearly 100 countries, including more than 30 in Africa.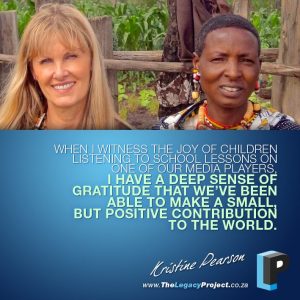 I Am Driven By | A profound sense of purpose and responsibility.  I feel deeply passionate about the work that I have done over the past 18 years, especially when it comes to access to information and energy poverty – fundamental social justice issues. The certainty of purpose that I feel for our mission aligned with a sense of responsibility drives me to do the very best for those we serve, especially women and girls.  As a social entrepreneur, my default position is to change what I believe I have the ways and means to effect.
My Highlights | On a personal level, it's my female friends and the friendships that I have with them, many of which are decades long. These relationships have always been central to my life and I am blessed to enjoy many rich memories shared with women friends around the world.
In respect of my career, I am most proud that in 2001 I saw the need to create a solar and wind-up radio to be used by child-headed households in Africa and for distance education. At the time, no one else thought it was worthy of funding or developing commercially.  I was relentless in pursuit of this goal; raised donor funding; oversaw the product development and launched it in 2003 to youth refugees living in Tanzania.  Over the years, this learning tool along with its updated successor, the Prime radio, has provided information and education opportunities to millions in Africa who would otherwise not have had listening access. And for that, I feel incredibly proud!
LISTEN TO KRISTINE PEARSON BEING INTERVIEWED ON SHERPA & FRIENDS PODCAST
A Key Talent | I don't easily take 'no' for an answer. There have been times in my adult life when someone else has said "It can't be done", "It won't work" or "You can't do that".  If I feel strongly about something, I am relentless in finding a way, sometimes an unconventional way, to make it happen.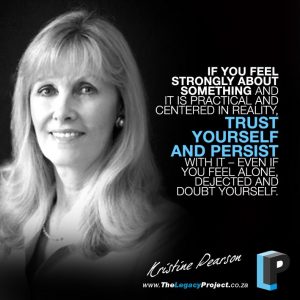 The Characteristics Of Success | As a youngster in California, I became accustomed to my own company, as my siblings were far older than me. From an early age, I grew to be independent and self-reliant. These, combined with a creative streak, an entrepreneurial outlook and a good sense of direction – have helped me to experience many less-visited parts of the world – largely on my own.  Travelling has reshaped my world view. This wanderlust, if you will, has helped me to experience Africa and consequently the work I do differently – to see opportunities where others didn't, to ask questions that others hadn't.  
Critical Skills I Develop | Persistence. I read once that to persist with a goal, you must treasure the dream more than the costs of sacrifice to attain it.  Tenacity. The social enterprise sector is tough. Serial rejection is more prevalent than success. Directness. I think it's essential to say what you mean.
Lessons I Have Learnt | If you feel strongly about something and it is practical and centered in reality, trust yourself and persist with it – even if you feel alone, dejected and doubt yourself.
Dealing With Doubt | In 2009/10, we received funding from Tom Hanks and his friends to create our next generation educational tool, the Lifeplayer, which had a media player capability. In 2010, the company that we had long been associated with (Freeplay Energy) went into liquidation owing the charity a significant sum of money. The rug was yanked from under us. To survive, we established a for-profit company, owned by the charity that would design and manufacture the Lifeplayer and other group listening radios. This all happened during the worst economic climate in recent memory.
It was a rough time for charities in general and we were no exception.  We had to lay off staff; our new product development was behind schedule; factories couldn't afford to hold inventory so lead times extended and credit became non-existent. I was plagued with self-doubt as it seemed that any significant decision I made turned out to be wrong.  I felt imprisoned in a snowball rolling downhill and I couldn't make it stop. During this time, my mother also passed away.  If it hadn't been for Mr Hanks, I would have resigned.  I couldn't let him down and wouldn't let him lose face to his friends who had so generously answered his call to help make the Lifeplayer exist. The recipients of our products who rely on them for education and information kept me going, but my responsibility to repay the trust that Mr Hanks had placed in me, and the support he had shown for our work, was the central motivator during this darkly stressful period. And now, I'm so glad I 'hung' in there!
The Best Advice I've Received | A university professor told me when travelling to "Allow the laws of hospitality to protect you". I have and they have. I've visited more than 100 countries, most of them on my own, and have never had anything truly awful ever happen to me. To the contrary.
I Am Inspired By | The people that I have worked with over the years in Africa.  They're not famous.  They don't win awards.  They struggle to make ends meet themselves.  But they're creating an immense difference in the lives of those in their communities.  I've been blessed and humbled to have known incredible women, who have taught me about what real sustainable development is, what it means to live in poverty and suffer energy poverty, and what it is to be dignified in the face of seemingly insurmountable challenges.
The Legacy I Would Like To Leave | A legacy is something I've not previously considered, as I don't have children.  That said, I think if one child completes their high school and goes on to university because they attended radio school when they were young; if one woman learned to better nourish her child because of information she'd heard on a radio show; if one family made a wise decision to save them from disaster because they received accurate information on the radio, I would be satisfied. I believe that the legacy we leave can be seen in the difference we make in the lives of the people we serve. When I witness the joy of children listening to school lessons on one of our media players, I have a deep sense of gratitude that we've been able to make a small, but positive contribution to the world.
Useful Links |
Website: http://lifelineenergy.org/
Facebook: https://www.facebook.com/LifelineEnergy
Twitter: https://twitter.com/lifelineenergy
Twitter: https://twitter.com/kplifeline